ISOLATION ROOM EXHAUST SYSTEM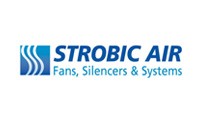 Strobic Air Technologies fan systems were created as a custom engineered solution to meet the exacting specifications of owners trying to solve a specific problem. By doing so, we created an industry that we continue to lead.
HEPA filtration systems are available for special medical / pharmaceutical applications such as isolation room and quarantine exhaust, Level4 safety labs, or similar applications.
More Details : www.strobicair.com
Product List
Lab Exahaust System
Custom Engineered Solutions
Fume Exhaust System
Download Brochure