JOHNS MANVILLE – INDUSTRIAL INSULATION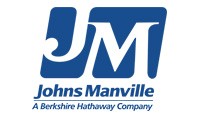 Johns Manville is a leading manufacturer and marketer of premium-quality insulation and commercial roofing, along with glass fibers and nonwovens for commercial, industrial and residential applications. their products are used in a wide variety of industries including building products, aerospace, automotive and transportation, filtration, commercial interiors, waterproofing and wind energy. They are a proud member of the Berkshire Hathaway family of companies and serve customers in more than 80 countries around the globe.
Johns Manville is the leading manufacturer of thermal insulation solutions for high-temperature industrial applications. They offer the broadest range of insulation solutions engineered for the most demanding industrial applications. Each of their products provides unique features and benefits to ensure you have consistent performance that meets your specifications and design criteria.
More Details :www.jm.com
Product List
Perlite
Calcium Silicate
Aerogel
Hydrophobic Blanket
Industrial Mineral Wool
Accessories
Download Brochure